The opening day dust has settled and the verdict is in – Star Wars Galaxy's Edge at Disney's Hollywood Studios is a must see!  Disney has taken immersive to a whole new level with the unveiling of their newest land.  Come explore with me…
This slideshow requires JavaScript.
Last month, Disney welcomed visitors to become a part of a world like no other.  I set my alarm for the 3am wake up call to head to the park on opening day.  The energy was electric as die hard fans were part of this historic moment.
It's pretty rare to have a dark to dawn experience at Disney (runDisney races are a good example of when you can do this and very worth it) but to experience this at Star Wars had it's own awesome perspective.  To start off in a star covered universe and then watch as the sun spread across the landscape was something I'll never forget.  If you are staying at a Disney resort, I highly encourage you to take the plunge and make it to Extra, Extra Magic Hours if possible before the sun is up. These will be available now through November 2nd and it is one of the coolest Disney experiences you can have.  Plus lets be honest, not all are able to make that early wake up time so the crowds are in your favor!
This slideshow requires JavaScript.
The land at Star Wars Galaxy's Edge is known as Batuu, a once thriving outer rim planet that is now home to the Resistance.  However, keep your eyes out as members of the First Order have arrived and are on the lookout for any rebels.  The land itself is breathtaking.  True to Disney form it is a land of its own – except at each of the entrances, there are no other portions of Hollywood Studios that are visible.  Let's take a look…
Must See: Millennium Falcon Smuggler's Run
The stunning center of the land is the Millennium Falcon in all it's glory.  The detail is incredible and you have great views of the ship when you head to ride Millennium Falcon: Smuggler's Run.  Disney has created another excellent queue line and wait times have been reasonable!  Once you are ready to ride, you will be assigned a role of pilot, gunner, or engineer. If you are looking for a lengthy review, check this out. My biggest recommendation with this ride is to go big – don't ride passively.  Those who love the ride the most seem to be people who commit to their roles and shoot, yell, whoop, and laugh along with everyone else in the ship.
This slideshow requires JavaScript.
Make Sure to Visit: Oga's Cantina
Don't let a line outside deter you from trying to catch a drink inside Oga's.  If you are looking for a quintessential Star Wars experience, this is it. DJ R-3X mixes spacey beats which are fun and funky.  While the drinks are eye catching, one of the best aspects of the Cantina is it allows you to take a moment and experience Star Wars as if you were in the movie.  Sit back, watch everyone around you, and imagine that any moment Han Solo or Boba Fett might pass by.  Highly recommend.
This slideshow requires JavaScript.
Explore: Black Spire Outpost and Dok Ondar's Den of Antiquities
The Black Spire Outpost is a fancy way of saying "Star Wars shops" but it is their presentation and depth that really make it a home run.  In an Indian meets space age type market, you can purchase traditional souvenirs or more unique Star Wars items such as at the Creature Stall or Kat Saka's Kettle. Dok Ondar's is also a gift shop but eagle eyed Star Wars fans will spot many important items around the shop.
This slideshow requires JavaScript.
For the die hards: Savi's Workshop and the Droid Depot
For fans who want a truly authentic souvenir, head to Savi's Workshop or the Droid Depot.  At Savi's Workshop you are able to build your own custom made lightsaber.  Authenticity does have a price and a reservation is recommended but the light saber is out of this world.  The Droid Depot allows you to build a custom droid and gives you a special carrying case for your journey home.
This slideshow requires JavaScript.
For the adventurous: the Milk Stand
At the Milk Stand you are able to try out the Blue and Green milk that Luke Skywalker made famous! Are you team green or team blue??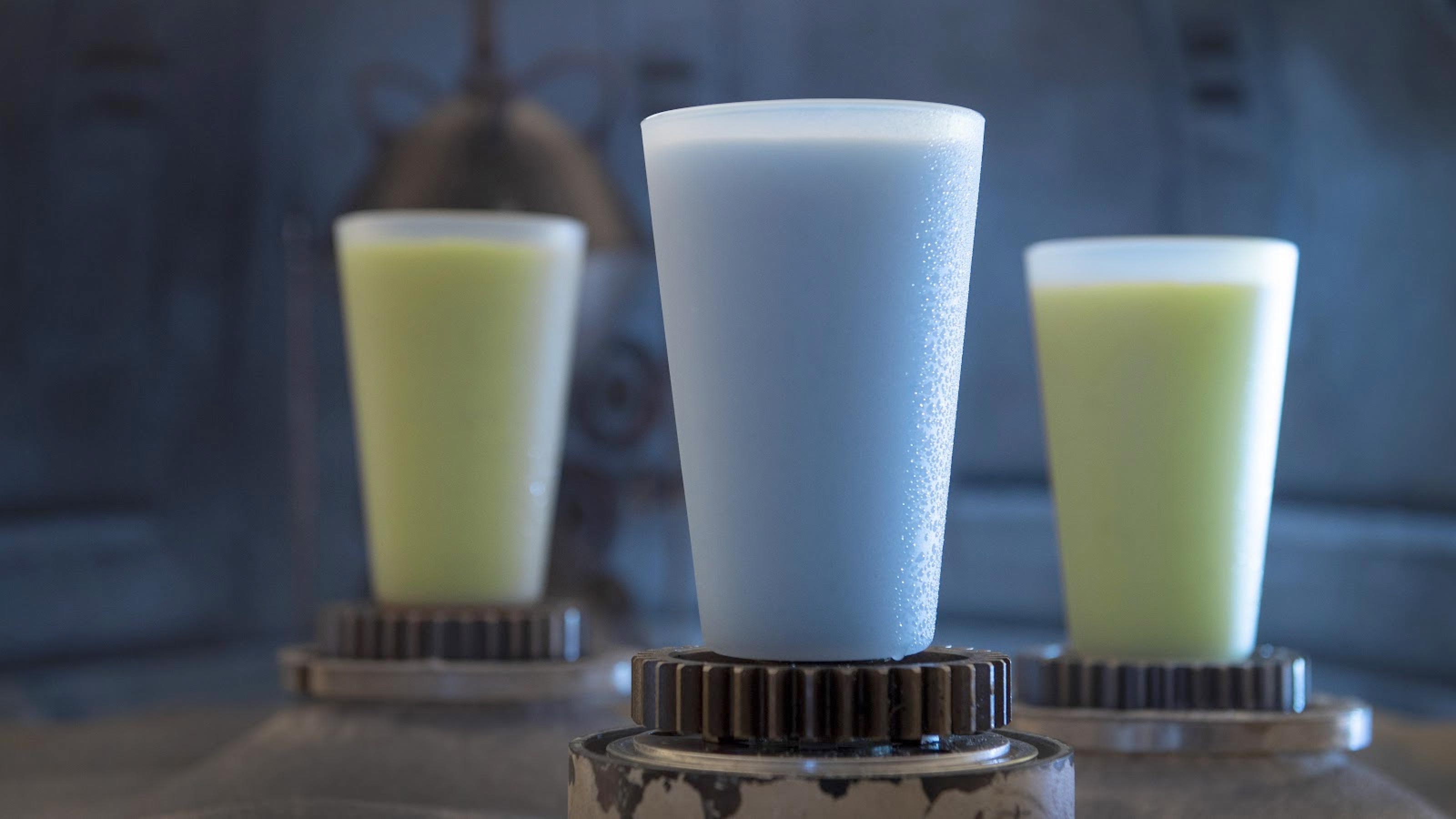 For an enhanced experience: Galaxy's Edge Datapad
One thing to understand about Batuu is it is best taken in at a relaxed pace.  Unlike other areas where you may run from ride to ride, the intricacy sets this world apart.  For those fans who really want to maximize their visit, make sure to have the Play Disney Park app on your phone.  On the app, enter the Galaxy's Edge Datapad game.  There were a LOT of people checking this out – you can see as they walk through the land and scan various items, writings, etc.  Just don't forget to bring your extra phone battery.
Coming soon: Rise of the Resistance
On December 5th, Galaxy's Edge will have a second ride to further enhance your Star Wars experience.  Rise of the Resistance will allow riders to join Star Wars favorites in an epic battle against the First Order!
I found on my initial visit that I thought I would be "in and out" in about 2-3 hours and yet at my fourth hour I still did not want to leave.  This is a truly one of its kind place.  Not shockingly, I found, in ways I've never seen at Disney parks, then men ages 20-80 were far and away living out their childhood dreams.  This was different for a Disney park and in an awesome way.
If you have any other questions about the land, shoot me a message.  If you'd like to head there and see it yourself, I can provide you with a free quote here (Rachel Berning).  As always, my services as a Disney planner are free.
May the force be with you!